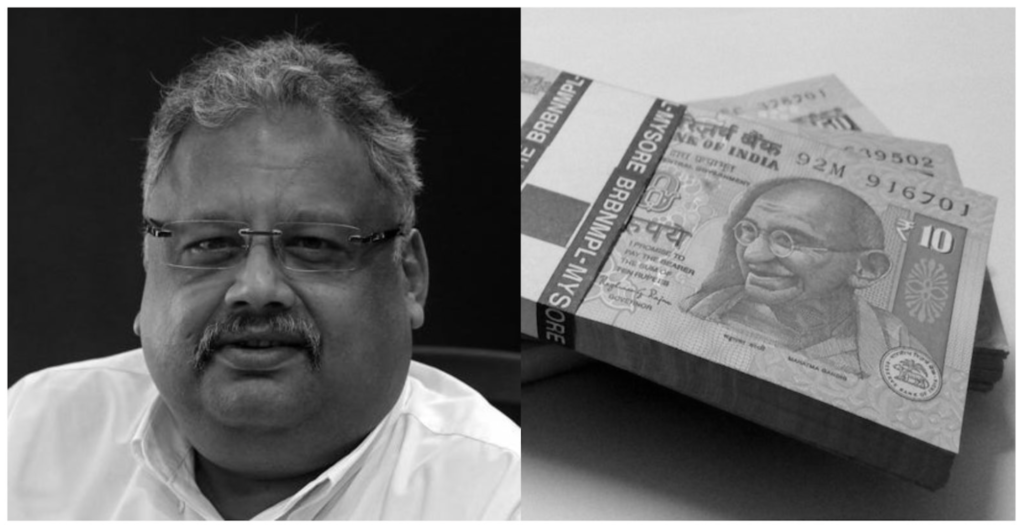 By Iris An
At dawn on August 14, just as daylight swept over Mumbai, Jhunjhunwala, the veteran trader-cum-investor, known as the Big Bull of Dalal Street, passed away following a cardiac arrest.
At the funeral ceremony, Gautam Adani, who had just overtaken Bill Gates and become the world's third richest man in August, expressed his shock and sadness, calling Jhunjhunwala India's "ace investor" and "the most legendary investor that India has had."
Unprecedentedly for any financial practitioner, India exercised the highest tribute by placing the memorial service for Jhunjhunwala at the Bombay Stock Exchange (BSE India). Prime Minister Narendra Modi posted a photo of himself with Jhunjhunwala with the caption:
"Rakesh Jhunjhunwala was indomitable. Full of life, witty and insightful, he leaves behind an indelible contribution to the financial world."
What did Jhunjhunwala do that made an investor so fondly reverenced across India's political and business communities?
---
01
The Indian Coca-Cola
A self-made investor, Jhunjhunwala was the son of an income tax officer. Introduced to the financial world at a young age, he attended Sidnham College of Business and Economics, the oldest business school in Asia.
As Jhunjhunwala entered college, in 1985, India's century-old tea company, TATA TEA, pioneered the revolution in tea packaging by introducing "poly pack," a plastic package transferring tea to a standardized, scaled product.
India's national beverage, tea, is demanded daily, frequently, and widely. Today, one-third of Indian households wake up to a cup of Tata tea, and the word 'chai' (tea) prevails in more than 100 ethnic groups and 20 dialects.
Then a college student, Jhunjhunwala saw the potential of packaged tea as a standard product. In the eyes of the young investor in 1985, Tata tea was no difference from Coca-Cola to Warren Buffett in 1988. Without financial support from his parents, Jhunjhunwala secretly borrowed 5,000 rupees (about $100 at the time) from his cousin, and in 1986, he leveraged it to buy 5,000 shares of Tata tea at a price of 43 rupees per share. It surged to 143 rupees in three months and earned him 2.5 million rupees three years later.
Tata Tea is the biggest-selling tea brand in India today.
After first big profit from the stock market, Jhunjhunwala's story with the Tata Group continued with the passing of time.
Tata Group, Tata Tea's parent company, is India's top 1 consortium, known as India's Samsung Empire. Tata companies cover all aspects of finance, energy, communications and chemicals, with a revenue of $128 billion (INR 9.6 trillion) in 2022 and employ over 935,000 people in 100 countries across six continents.
The 154-year-old family-owned company, had repeatedly appeared in Jhunjhunwala's portfolio. He invested in the Indian steel giant Tata Steel, which located in Jamshedpur, the only city in India run by a private company with healthcare and welfare second to none in the country. In 2020, he entered Tata Motors, and supported the company under N Chandrasekaran's leadership by calling it a future leader that continues to exceed expectations.
And Titan, the watch giant of Tata Group, remains the most successful investment in Jhunjhunwala's life.
---
02
"Markets — undersexed in a harem and oversexed in a desert"
In 2001, journalist N Mahalakshmi interviewed Jhunjhunwala, an interviewee which she reflected twenty years later as the "master of rhetoric." She was challenged by Jhunjhunwala's sharpness, decisiveness, and almost non-stopping critical counter-questions — the same factors that fueled his investment in Titan.
At the time, Titan's net profit fell from Rs. 2,348 million to Rs. 1,309 million in fiscal 2001-2002 and further fell by 55.25% the following year, dragged down by its blind expansion in Europe and a partial lockout of some domestic parts factory during the peak sales season. To make things worse, the dot-com bubble burst and a stock market crash broke out in India, causing the SENSEX index in Mumbai to plunge 22% in 40 days.
While the market went hopeless in Titan, Jhunjhunwala saw the jewelry business grow 29% in 2002-2003 to Rs 345 crore which prompted his belief in the company's growth potential at a time of poor financial performance. He was optimistic about the future profit prospects of Titan after shrinking its international business.
Thus, between 2002-2003, Jhunjhunwala took a plunge of 6 million shares of Titan at an average price of Rs. 30. Later, as jewelry and gold prices soared, Titan terminated its shrinking international operations and reversed its performance. Combined with the rise in the Indian stock market, Titan rose 81 times since Jhunjhunwala took the plunge. A quarter prior to his death, Jhunjhunwala still held Rs. 110.86 billion in Titan, almost a third of his fund portfolio.
Twenty years from her challenging interview, the journalist N Mahalakshmi wrote her eulogy to Jhunjhunwala, citing a famous quote, "In markets, it sometimes feels like being undersexed in a harem and over-sexed in a desert…good investors should feel under-sexed when there is depression and over-sexed when there is irrational exuberance."
Little known was that as early as the 1990s, Jhunjhunwala was already the largest shareholder of Titan, with a shareholding surpassing that of Ratan Tata, the then head of the Tata Group. At that time, Titan was deep in a chaotic insight, heavily in debt, and its watch business showed no sign of improvement.
However, the only unforgivable mistake in investing, according to Jhunjhunwala, was failing to distinguish between an understanding of the company's fundamentals and the expectations implied by the stock price. It is important "what you are buying, but it is more important at what value/price you are buying." He invested in Tata Motors for tits management's ability to lead the business growth despite infighting chaos; when investing in Titan, he was able to continuously find new driving forces for profit growth, from jewelry in 2001, to smartwatches that grew 120% this year.
Later, the Titan vice president described it as, "Jhunjhunwala had more faith in Titan than Titan." The company rose far beyond the wildest imagination of the founding team and the Tata Group, and Jhunjhunwala was the first to envision it.
---
03
"Big Bull who backed India," 20 times in 20 years
India's stock index has been the world's top performer, rising 20 times in 20 years.
"I'm the right person at the right place with the right attitude," said Jhunjhunwala, "If the SENSEX had not gone up 100 times from when I started, I could not have been successful."
Like Warren Buffett, Jhunjhunwala has an unquestioning belief in the country's fortunes and was known for a firm long position whenever the 'collapse of the nation' seemed to prevail.
India was deep in crisis in the early 1990s, with foreign exchange reserves shrinking to the value of two weeks' worth of imported goods. While investors had decided that the Indian stock market had no future, Jhunjhunwala deduced that global economic development must increase the demand for iron ore, of which India had the third largest reserves in the world. He then took a heavy position in 400,000 shares of Sesa Goa worth about Rs. 10 million, buying at Rs. 22-26 and finally selling when the stock price soared to Rs. 2,200.
30 years later, the same story took place.
With the covid pandemic hit India in 2020, plummeting the country's GDP by 6.6%, Jhunjhunwala famously claimed "the current century was poised to be India's century." He predicted that in 3-5 years, India will have a double-digit GDP growth per year and a huge influx of foreign capital.
Following his firm belief in the country's main industries, Jhunjhunwala was convinced that a well-run, frugal airline could succeed in a low-penetration market like India. While the Indian airline industry was suffering huge losses over the past few years, he invested $35 million and took a 40 percent stake in the low-cost airline Akasa Air. He recruited the best talent for Akasa Air, including the former president of India's largest airline, IndiGo, and established a huge amount of capital to bring in 72 aircraft over the next five years.
Akasa Air, a brand of SNV Aviation Private Limited, is an Indian low-cost airline headquartered in Mumbai, Maharashtra, India.
Just a week before his death, Jhunjhunwala was last seen in the public eye at the launch of Akasa Air's inaugural flight.
While Akasa Air remains the most valuable legacy of Jhunjhunwala, the investment firm Rare Enterprises was his other well-known legacy, named using his and his wife's initials. More than once Jhunjhunwala emphasized to the journalists, "I work for only one client – Rekha Jhunjhunwala (Mrs. Jhunjhunwala)."
Among the most heavily invested stocks of Rare Enterprises were Titan, Star Health and Allied Insurance, Tata Motors, CRISIL, and NCC — all of them Indian companies. The value of Rare portfolio soared from Rs 84.31 billion in March 2020 to Rs 306.52 billion in August 2022, when Jhunjhunwala commented, "India's bull market needs the wrath of God to reverse itself prematurely."
Top 15 Jhunjhunwala Stocks (Unit: Rs. 100bn )
---
04
Not anyone's clone
Jinjunwala didn't really like the title Indian Warren Buffet.
He wore a white shirt full of wrinkles, smoked cigarettes, burped loudly and was famous for his dirty jokes. "Even if my wealth is 20 percent of what it is today, I'd smoke the same cigarette, drink the same whisky, drive the same car, have the same office, the same house, wear the same clothes, have the same wallet, eat the same food," he says. "Money is not anything which is going to affect me, or the way I live." He said, "I am not a clone of anyone. I am Rakesh Jhunjhunwala."
He had six long positions in stocks that he has held for up to 10 years. The so-called "India's Warren Buffett" is, in the end, not a simple replica of Warren Buffett's investment style, but a non-replicable combination of knowledge and decisive action that backed the country's fortunes.
As Jhunjhunwala's famous quote goes, "Weather, death, markets and death–you can't predict," his death abruptly brought to an end his leadership of three firms — RARE Equity Private ltd, RARE Family Foundation and HOPE Film Makers, and closed a history of legendary investment.